City of Plymouth Buys Back Cheese Counter and Dairy Heritage Center from SCEDC Foundation: A Successful and Historic Restoration Partnership
SHEBOYGAN, WI — The Sheboygan County Economic Development Corporation (SCEDC) is a public-private partnership leading economic, community, and workforce development efforts in Sheboygan County, including partnerships through the SCEDC Foundation that help the redevelopment of h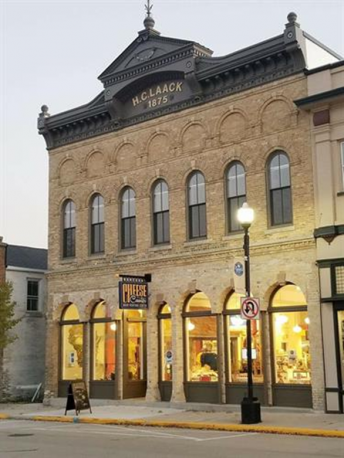 istoric buildings like the Cheese Counter and Dairy Heritage Center in Plymouth, WI. After a successful six-year partnership, the City of Plymouth is again the owner of the Cheese Counter and Dairy Heritage Center building at 133 E. Mill St..
The Cheese Counter was originally transferred to the SCEDC Foundation in 2016 to qualify for historic tax credits and other incentives that helped finance the redevelopment of the vacant building. The agreement was set to last for five years as the SCEDC was required to remain the building's owner while the Plymouth Redevelopment Authority (RDA) continued to operate the building and direct its restoration. The Plymouth City Council voted in September to purchase the Cheese Counter and Dairy Heritage Center back from the SCEDC Foundation for $1. As of December 2022, this transaction has been completed.
The SCEDC Foundation was instrumental in obtaining the funds for restoration, having been awarded up to $300,000 in State of Wisconsin historical tax credits supporting the project. "The Partnership between SCEDC and the City of Plymouth/RDA provided a unique opportunity to fund The Plymouth Cheese Counter and provide a historical reminder of our heritage as the Cheese Capital of The World," said Don Pohlman, Mayor of the City of Plymouth.
In the first year of operation under the partnership, The Plymouth Cheese Counter and Dairy Heritage Center distinguished itself as a singular shopping experience, merging both a Plymouth-centered dairy museum with the best grilled cheese sandwiches in the area. Thanks to the historic partnership between the City of Plymouth, Plymouth Redevelopment Authority, and the SCEDC Foundation, the Cheese Counter and Dairy Heritage Center is now a downtown gem and tourist destination.
"The Plymouth RDA has been thrilled to be aligned with the SCEDC in the development of the Cheese Counter in our downtown," said Lee Gentine. Chair of the RDA. "This project wouldn't have been possible without this partnership. We look forward to other possible ventures." The historic partnership has proved to be an asset to the City of Plymouth and Sheboygan County.
"The location has become a prime example of how a municipality can leverage local partnerships to accelerate innovative projects," said Timothy Blakeslee, Plymouth City Administrator. "The city looks forward to future partnerships with the SCEDC to support economic development in Plymouth."
The success of the project has also proved to be a blueprint for others. "We have created a template that has been copied over and over in many communities across the nation," said Pohlman. "Federal and State tax laws were designed for just this purpose." The SCEDC looks forward to more community development partnerships.
To learn more about the Cheese Counter, visit https://cheesecapitaloftheworld.com. For more information about the Cheese Counter partnership and transaction, email Brian Doudna, SCEDC Executive Director doudna@sheboygancountyedc.com.