Elevate Yoga rises in downtown Sheboygan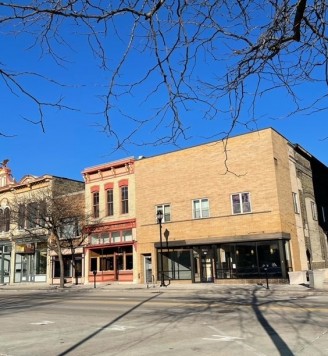 SHEBOYGAN COUNTY, WI — The Sheboygan County Economic Development Corporation (SCEDC) and Small Business Development Center (SBDC) at UW-Green Bay aim to provide a wide range of services, resources, and expertise to help encourage entrepreneurial opportunities in Sheboygan County, including start-up businesses that promote physical fitness, health, and wellness.
With the help of the SCEDC and SBDC, Jacqueline Wing founded Elevate Yoga. The mission of Wing's business is to "elevate our community through yoga by strengthening the mind and body of each individual who chooses to be present." Elevate Yoga was holding virtual classes until in-person classes began on May 22. Elevate Yoga is located at 617 N. 8th St. in Sheboygan, WI.
Wing has lived in Sheboygan for nearly 14 years where she has built a diverse background of experience; she has worked in accounting and finance for several Sheboygan County businesses, and spent four years as a yoga instructor.
Wing began teaching full-time as a yoga instructor in the spring of 2020 shortly after the COVID-19 pandemic hit and after reflecting on her place in the yoga community.
"I have wanted to open a yoga studio for years, but I never had the time in my schedule to truly dedicate to building a business plan until the COVID-19 pandemic," Wing said. "During the pandemic, my personal schedule completely changed. I wasn't traveling for work or fun, and I had a lot more free time to spend on writing a business plan and realizing what I truly wanted to do and how I wanted to spend my time and energy."
Elevate Yoga allows Wing to share her passion for yoga with the Sheboygan community.
"The Sheboygan community will grow and benefit from the Elevate Yoga community in so many positive ways," she said.
Ray York, a business counselor with the Sheboygan County Economic Development Corporation, played a key role in laying the foundation for the launch of Elevate Yoga, according to Wing.
"I started working with Ray York before I even finalized my business plan," Wing said. "He has provided such fantastic support from ideas and suggestions, to contacts, links, and loads of information on the process and direction to take with this endeavor. I couldn't be more grateful for all of the information that was shared and guidance that was provided along this journey. It took a little of the fear out of the process."
Elevate Yoga is located in the heart of downtown Sheboygan. Wing said she was drawn to the space because of its size, windows, and community feel.
"I am looking forward to connecting with other business owners and being accessible and available to students from this location," she said. "The location of Elevate will be convenient for many, whether you live in town or near the studio or have other obligations or reasons to be in downtown Sheboygan," she said.
According to Wing, Elevate Yoga strives to provide an all-encompassing yoga experience that accommodates all schedules and yoga levels.
"Elevate Yoga offers a wide range of yoga [and barre] classes for all levels of practitioners," Wing said. "There are morning classes, daytime classes and evening classes with different instructors and formats of class. We offer a space for all students to grow, learn, and share with each other as we find ways to get stronger and healthier as a community."
Elevate Yoga offers classes seven days a week and currently has eight instructors, Wing said.
"It is a team of people ready to share what they have learned and what they find in the yoga practice themselves with all students that choose to walk in the door."
Wing is committed to making Elevate Yoga a long-lasting and resilient part of Sheboygan by empowering the community through yoga.
"The long-term goal for Elevate Yoga is to build up a community of teachers and students that truly feel as though they are better in some way for being a part of Elevate Yoga," Wing said. "I hope Sheboygan feels stronger because of the services, commitment, and energy that surrounds this business."
Elevate Yoga welcomes any suggestions from the community on classes and time frames and any inquiries regarding yoga or barre in general, Wing said. To provide suggestions or learn more about Elevate Yoga, email hello@elevateyogallc.com, call 920-783-6124, or visit www.elevateyogallc.com.
For more information about Sheboygan County Economic Development Corporation entrepreneurial services, email york@sheboygancountyedc.com or call 920-452-2479.
###