Holmes Inspections Offers Comfort for Homebuyers 
Holmes Inspections Offers Comfort for Homebuyers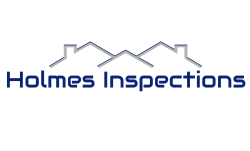 Buying a home can be a nerve-racking experience filled with a laundry list of questions and concerns.
After building an impressive resume in the home construction field, Sheboygan's Steve Holmes opened Holmes Inspections in fall 2018 with a clear cut goal of putting the minds of prospective homebuyers at ease.
"Holmes Inspections is a full-service inspection service offering residential and commercial inspections, radon measurement, as well as mold sampling if required, needed or desired," Holmes said. "I have many years of home construction, remodeling, as well as business management experience. My experiences translate into a thorough inspection with a professionally written report. This information provides comfort for customers to make informed decisions in the purchase of their home."
While Holmes Inspections offers valuable home inspection services to home buyers, it also assists those looking to sell their home.
"Holmes Inspections offers residential inspections both at the time of the sale, as normally written into the offer to purchase, as well as pre-sale inspections so the person considering the sale of their home can know the issues their home may have prior to listing the property," Holmes said. "The pre-sale inspection has become very popular as it provides an opportunity to make the corrections required to avoid issues coming up at the time of an offer to purchase that can put the sale in jeopardy."
Holmes has accumulated and impressive list of qualifications, including Wisconsin Licensed Home Inspector, NRPP Certified Radon Service Provider and Certified Professional Inspector – International Association of Certified Home Inspectors.
Holmes Inspections provides home inspection services for customers living in Sheboygan, Ozaukee, Manitowoc and Fond du Lac counties.
"Holmes Inspections is licensed, certified and fully insured," Holmes said. "We are committed to providing excellent customer service and educating our clients as they make home purchasing decisions."
Prior to opening Holmes Inspections, Holmes sought business plan writing assistance from the Sheboygan County Economic Development Corporation (SCEDC) by taking the Wisconsin Small Business Development Center (SBDC) Entrepreneurial Training Program (ETP) course.
"The SBDC ETP course was an invaluable asset to my business," Holmes said. "The course took approximately 20 area current and future small business owners through the process of researching areas of our businesses and developing a formal written business plan."
According to Ray York, business counselor for the Small Business Development Center at UW-Green Bay and the Sheboygan County Economic Development Corporation, Holmes is well on his way on the road to entrepreneurial success.
"Steve has a strong background in home renovations," York said. "That experience helped him establish his business plan, which created the momentum needed in his networking and marketing efforts. Steve's attention to detail is clear and it shows through in his work."
For more information or to schedule a home inspection with Holmes Inspections, call 920-395-8092, email steve@holmesinspectionsandtesting.com or visit www.holmesinspectionsandtesting.com