Lakeshore Wheels Program's First Car Owner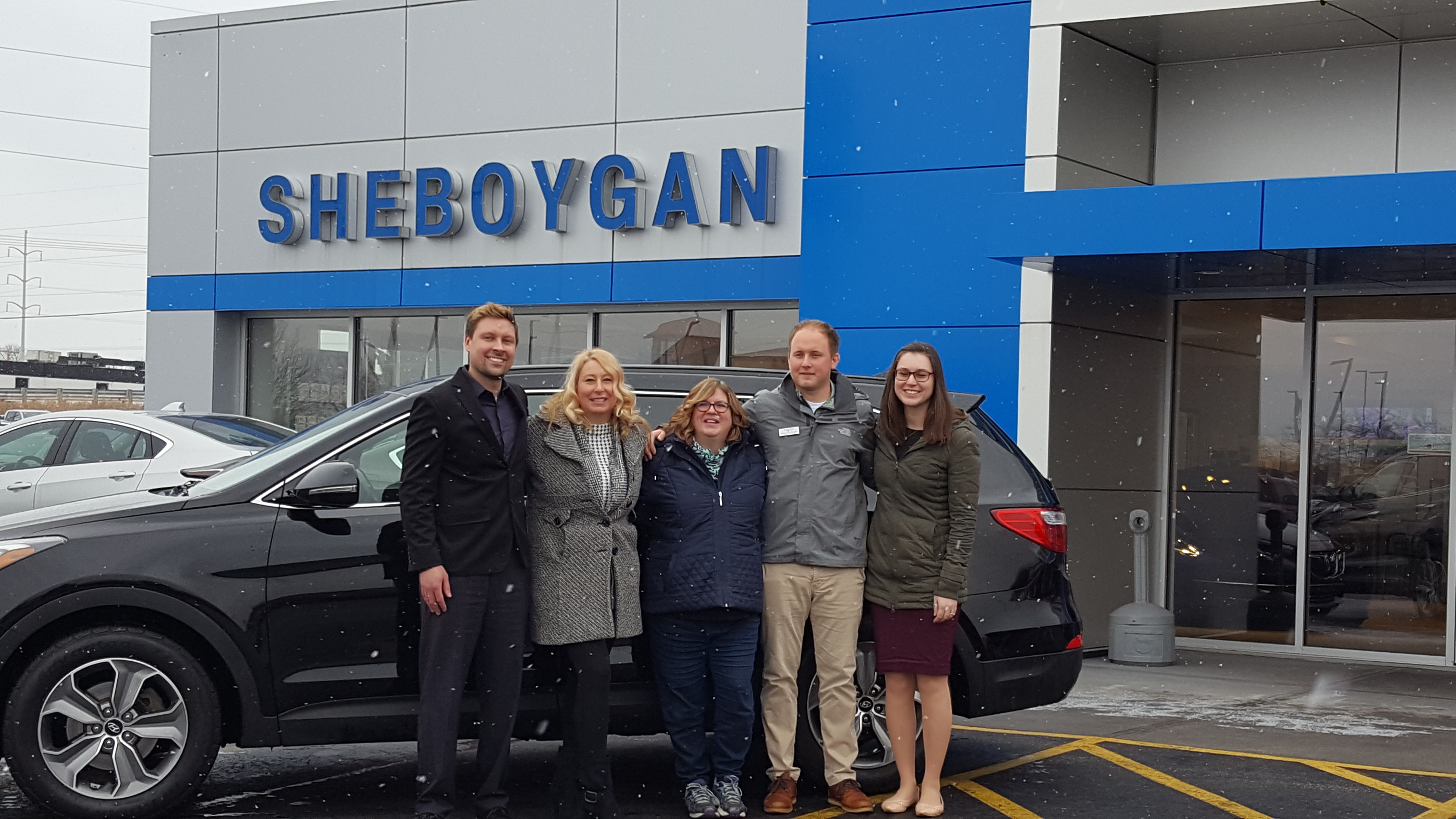 Sheboygan, WI, January 18 — Kim Johnson was not certain she could ever manage to replace her old, broken-down Cadillac, but with the completion of the Lakeshore Wheels program through Consumer Credit Counseling Service and financing through Kohler Credit Union, Johnson picked up her 2013 Santa Fe from Sheboygan Chevrolet and is happy to have reliable transportation.
With transportation being a major workforce concern identified by area employers, Consumer Credit Counseling Service (CCCS) and the United Way partnered to pilot the Lakeshore Wheels Program in Sheboygan County. The program helps people with low credit scores obtain reliable transportation through a partnership with Sheboygan Area Credit Union, Kohler Credit Union, Dick Brantmeier and Sheboygan Auto Group.
"I didn't think buying a car would be possible with everything we had gone through," said Johnson. Johnson and her spouse had an unforeseen high-cost medical incident and managing the bills became overwhelming. She came to Consumer Credit Counseling Service and worked with Credit Counselor Shannon Rudolph on budgeting and a plan to pay off these bills. During one appointment Johnson was bemoaning their car which was too costly to repair but knew they couldn't get a loan with their current credit score. Rudolph introduced her to the Lakeshore Wheels Program.
"We are thrilled to have the opportunity to help people who may have come upon challenging times due to circumstance maintain their current jobs or find higher paying jobs by providing reliable transportation at reasonable interest rates. In addition, our clients develop valuable budgeting skills with unlimited follow-up and vehicle education. It's a great win for the community," said Wayne Griesbach, executive director of CCCS.
Candidates for the program must complete a financial analysis and vehicle education with CCCS on making payments, car insurance, what to look for when buying a car and can purchase a car with a warranty through one of the dealerships with a down payment match of up to $300. The goal of the program is to provide the workforce with reliable transportation, assist with accessing financing, improving credit history and helping those in the program along the path to financial wellness.
"Shannon and Connor truly cared about us," said a tearful Johnson. "We are so thankful for this program and everyone involved. Thank you for creating this program!"
For more information on the Lakeshore Wheels program, visit cccsonline.org/wheels-for-opportunity or call us at 920-783-6849.
Consumer Credit Counseling Service was established in 1912. Our staff of professionally trained and certified credit counselors will work with you in developing a workable plan for your financial problems and help you establish financial stability. We are dedicated to helping individuals and families maintain and achieve financial stability and improve their quality of life. We accomplish this and enhance the community by providing education, counseling, advocacy, and financial management program.
###