Plymouth Project recognized by the Wisconsin Association of Historic Preservation Commissions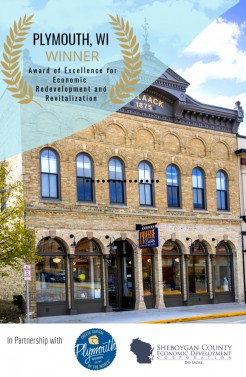 Plymouth, WI – On Friday, April 12, 2019, the Wisconsin Association of Historic Preservation Commissions presented the City of Plymouth with the Award of Excellence for Economic Redevelopment and Revitalization for the initiative of the City of Plymouth to purchase the A.F. Laack building and its subsequent redevelopment. The award was presented at the 2019 Wisconsin Association of Historic Preservation Commissions annual state conference in Oshkosh, Wisconsin.
The historical redevelopment project is located at 133 E. Mill Street and required the creation of the Mill Street Historic District in downtown Plymouth along with the use of historic investment tax credits. The final tax credit funding closed in early fall of 2018. Project partners included the City of Plymouth, Plymouth Redevelopment Authority, and the Sheboygan County Economic Development Corporation. Additional project funding came from the Wisconsin Economic Development Corporation and USDA-Rural Development. Corporate support for the project included Sargento, Sartori, Masters Gallery, and Great Lakes Cheese. Pfaller Architectural Associates, Legacy Architecture, and Retailworks, Inc. provided professional architectural and interior design services.
Dane Checolinski, SCEDC Director stated "We are excited to partner with the City of Plymouth and others to restore this building. This project is more than about honoring the past. It is about supporting the existing cheese industry that has supplied the Plymouth-area with the capacity to support thousands of families for generations. The best way to honor those before us is by building a brighter future for our kids and grandchildren."
The initial redevelopment of the property stalled after a developer failed to complete the project. The City of Plymouth considered a raze order to tear down the historic building which would have left a large void in downtown Plymouth. The City of Plymouth worked with Sheboygan County on purchasing the property back from the county after the property was foreclosed on from unpaid property taxes. The Plymouth Redevelopment Authority initially spurred efforts to save the building and came up with an alternative to razing the building.
The A.F. Laack building was built in 1875 and is a two-story brick Italianate commercial block building on a stone foundation. The main façade is finished in cream brick. The letters 'A.F. Laack' and '1875' are visible on the face of the building. The building currently houses the Cheese Counter & Dairy Heritage Center.
Downtown property owners interested in using historical tax credits may visit the Wisconsin Historical Society website here. For district boundary information, please contact Brian Yerges, City Administrator/Utilities Manager at byerges@plymouthgov.com or phone at (920) 893-3745.