CONSTRUCTION BEGINS ON LAKESIDE PEPSI NEW DISTRIBUTION FACILITY IN SHEBOYGAN FALLS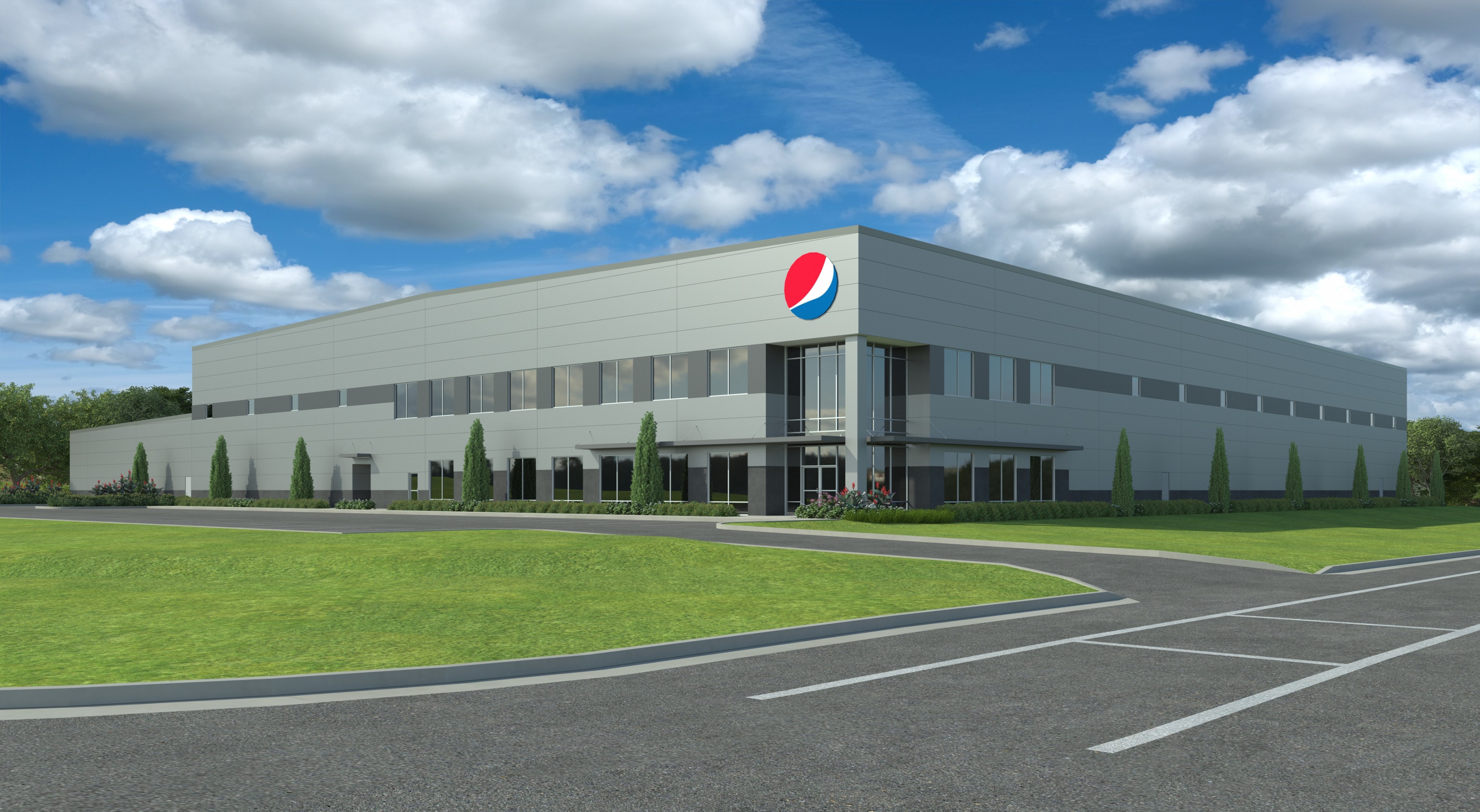 Sheboygan Falls, WI July 26, 2019 – Lakeside Pepsi, in partnership with Quasius Construction, broke ground in late June on its new 72,000 SF distribution facility.
Located at the corner of Stedman Way and County TT in Sheboygan Falls Vision Park District, the single-story distribution facility is designed to better serve its customers and meet increasing consumers' beverage and snack preferences.
"Our customer needs are much different than 15 years ago and the pace of change is accelerating. Consumers' preferences are evolving from refreshment and indulgence to now include functional benefits while requiring an increased offering of new and interesting flavors. The increased space and improved warehouse efficiency will allow us greater flexibility in meeting the complexity of carrying a greater variety of products." shared Owner of Lakeside Pepsi Pete Schueller.
The warehouse will feature an internal loading area comprised of six loading docks as well as space for loading two conventional beverage trucks concurrently. This internal space eliminates the risk of product freezing inside trucks during the winter months, increases loading output and provides better traffic flow for trucks and warehouse personnel.
The office space will feature twelve-foot ceilings with flexible individual workspaces, an open work lounge to promote interaction and collaboration as well as offices to meet the ergonomic needs of the Lakeside Pepsi team.
Quasius Construction will serve as the Construction Manager. Partnering with Lakeside Pepsi early in Lakeside Pepsi's decision process to expand its operations, Quasius helped with defining Lakeside Pepsi's warehouse and office needs, site selection, conceptual design, final design and bidding process. Construction will continue through spring 2020.
"Anytime we can work with a partner like Lakeside Pepsi early in the design phase, we are able to maximize the project value for the client," stated Matt Quasius, President Quasius Construction. "Quasius has worked with Lakeside Pepsi for many years and we look forward to helping them continue to service their customers for years to come."
Lakeside Pepsi is a fourth-generation, independently owned Pepsi-Cola bottler distributing beverage and snack products that in part includes Pepsi, Diet Pepsi, Mountain Dew, Sierra Mist, Klarbrunn, Bubbl'r, Aquafina, Bubly, Gatorade, Lipton and Pure Leaf Tea, Starbucks, Muscle Milk, Dole Juice, Rockstar, Mountain Dew AMP, and Mountain Dew Game Fuel Energy drinks, as well as other complementary brands including Roasted Bean/Harvest Ridge Hot Coffee and Cappuccino. Lakeside Pepsi Cola is the exclusive distributor of these brands for Sheboygan and Calumet counties as well as parts of Manitowoc and Ozaukee Counties.
Quasius Construction, located in Sheboygan's downtown district, delivers innovative construction solutions and services to clients throughout Wisconsin. Established in 1891, Quasius assists clients throughout their entire project life cycle, from planning and conceptual design through construction completion, helping clients make informed decisions and meet challenging project demands and budgets.