Eri's Beauty Studio fulfills Silva's ownership dreams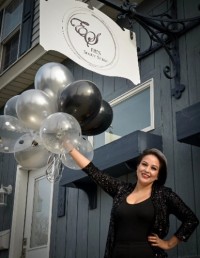 Sheboygan County, WI – The Sheboygan County Economic Development Corporation (SCEDC) and Small Business Development Center (SBDC) at UW-Green Bay aspires to offer a wide array of services, resources and expertise designed to guide budding entrepreneurs down the pathway to prosperity.
With the SCEDC and the SBDC at UW-Green Bay lending a steady helping hand, Zacatecas, Mexico native Juana Erica Silva opened Eri's Beauty Studio at 1317 North Eighth St. in Sheboygan on Tuesday, Dec. 1.
"I was born in Mexico and moved to the United States with my parents 22 years ago when I was 12 years old," Silva said. "I have lived in the Sheboygan area for the past 18 years.
Since graduating from beauty school in 2013, Silva has been on the fast track to success in the hair care, salon, and spa services profession. "I have been a cosmetologist for the past seven years," Silva said. "I got my salon manager license in 2017 and received my certification in eyelash extension in 2019. I have also continued my education in hair, nails, skin care, eyelash extensions and makeup working in different spas in the area, specializing in bridal hair and makeup."
After gaining industry experience at local salons, Silva says the time is right to make the big leap to business ownership. "Opening my own salon was always my dream," Silva said. "I've always wanted my own space where I can make people feel and look beautiful and be part of special occasion like their wedding day. I also want to inspire young girls to follow their dreams and to never give up."
Eri's Beauty Salon aims to offer a high-quality one-stop-shop for hair care, salon, and beauty services. "We do haircuts, hair color, scalp treatments, manicures, eyelash extensions, and bridal hair and makeup," Silva said. "My long-term goal in opening Eri's Beauty Studio is to keep learning, inspiring, and creating."
With the COVID-19 pandemic impacting how all businesses deliver their services, Silva is highly dedicated to providing a safe, comfortable, and welcoming environment for her customers. "COVID-19 is impacting society, especially small businesses," Silva said. "I request that my clients wear a mask for their services, and I will also wear one. Hand sanitizer will be available, and I will be disinfecting my station and tools before and after each client. If a client has any COVID-19 symptoms, I will ask for them to reschedule their appointment. I am also Barbicide certified. Offering a safe one-on-one service is my goal."
Silva is quick to credit SCEDC and SBDC at UW-Green Bay Business Counselor Ray York with helping Eri's Beauty Studio advance from dream to reality. "Ray has been a big help, answering all my questions, giving me ideas and helping me find information," Silva said. "He is amazing."
Eri's Beauty Studio is open 9 a.m. to 3 p.m. Tuesday through Thursday and 9 a.m. to 7 p.m. Friday and Saturday and closed on Sunday and Monday.
"Eri's Beauty Studio is a dream come true and I cannot thank my family enough for all the help and support, especially at this time of uncertainty," Silva said. "I hope I can be part of the business community for many years to come."
For more information on Eri's Beauty Studio, call 920-783-8156, visit Eri's Beauty Studio on Facebook, and erisbeautystudio on Instagram.
For more information about SCEDC entrepreneurial services, email York@SheboyganCountyEDC.com or call 920-946-9379.