Osman Art Gallery opens doors to artistic expression in Sheboygan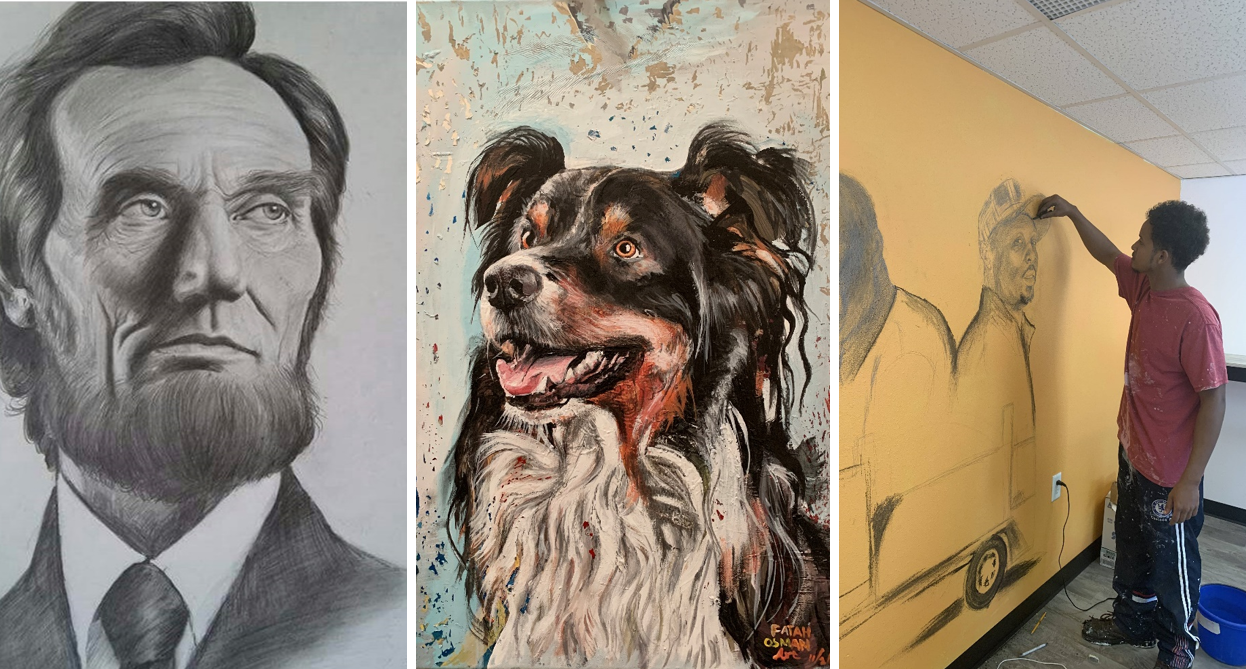 The Sheboygan County Economic Development Corporation (SCEDC) strives each day to assist local entrepreneurs in cultivating business development, advancement and creativity in Sheboygan County. Part of the SCEDC's initiative includes assisting potential entrepreneurs in all industries, including creative fields, identify opportunities to turn their artistic talents into viable business ventures.
While every artist has a different way of expressing themselves through their creative process, seven members of the Osman family are set to take artistic expression to a whole new level at the Osman Art Gallery in Sheboygan.
Originally from Somalia, the Osman family spent eight years in Ethiopia before arriving in the United States as Somalian refugees on Sept. 16, 2016. After developing a keen interest in art in their native Somalia, each member of the Osman family has flourished in exploring different artistic directions over the past three years in Sheboygan.
"My four siblings and I were always artists and have been striving to explore different ways to express our art," 19-year-old Abdifatah Osman said. "We have looked up to our father and our mom to give us direction. Being all together in an artistic world has made us who we are as artists."
Not content to create art the traditional way, the Osman family has been eager to go where few others in the artistic world have gone before.
"There's more than one way to explore an artistic world," Abdifatah said. "About five years ago, I decided to try a different way of drawing. I tried it with my feet and it has worked well and I've really enjoyed doing it that way. I'm not the only one in the family that has explored different ways of expressing art. My brother Abdikudus draws with his mouth.
"In addition, my brother, Abdikudus and I went on the 'America's Got Talent' television show, which was a very interesting experience," he said. "Each of the five kids in our family have also competed in multiple art competitions in Africa, taking home many awards."
The Osman Art Gallery, which is located at 1125 Michigan Ave. in Sheboygan, is open Monday through Saturday from 9:30 a.m. to 8:30 p.m. and Sundays from 10:30 a.m. to 7:30 p.m.
The five Osman kids and their parents create logos, t-shirts, sticker sheets and murals, as well as portraits of people and pets.
"We decided to make this art gallery happen in Sheboygan," Abdifatah said. "We opened the art gallery to the public on November 9th. We will be focusing heavily on doing portraits of people and pets."
To jump start their artistic entrepreneurial dreams, the Osman family enlisted the services of the Sheboygan County Economic Development Corporation.
"The Osman family came to the SCEDC seeking assistance in business planning," said Ray York, SCEDC and Small Business Development Center at UW-Green Bay Business Counselor. "To set them up for success, we provided them with contacts and business planning tools, while also helping them explore marketing strategies to spread the word about their new business."
Having a diverse portfolio of entrepreneurial opportunities strengthens our communities. The Osman family is a great addition to the well-established artistic scene in Sheboygan County, and will be a benefit to the 'work, live, and play' environment that fosters the continued economic growth in our County. Opportunity is a landmark of economic success and when Sheboygan County works together, we drive more success in our communities!
For more information on Osman Art Gallery, email or call 920-331-1344.
For more information about SCEDC entrepreneurial services please email or call Ray York at (920)452-2479.