With 3,000 Available Careers Sheboygan County Upgrades SomeplaceBetter.org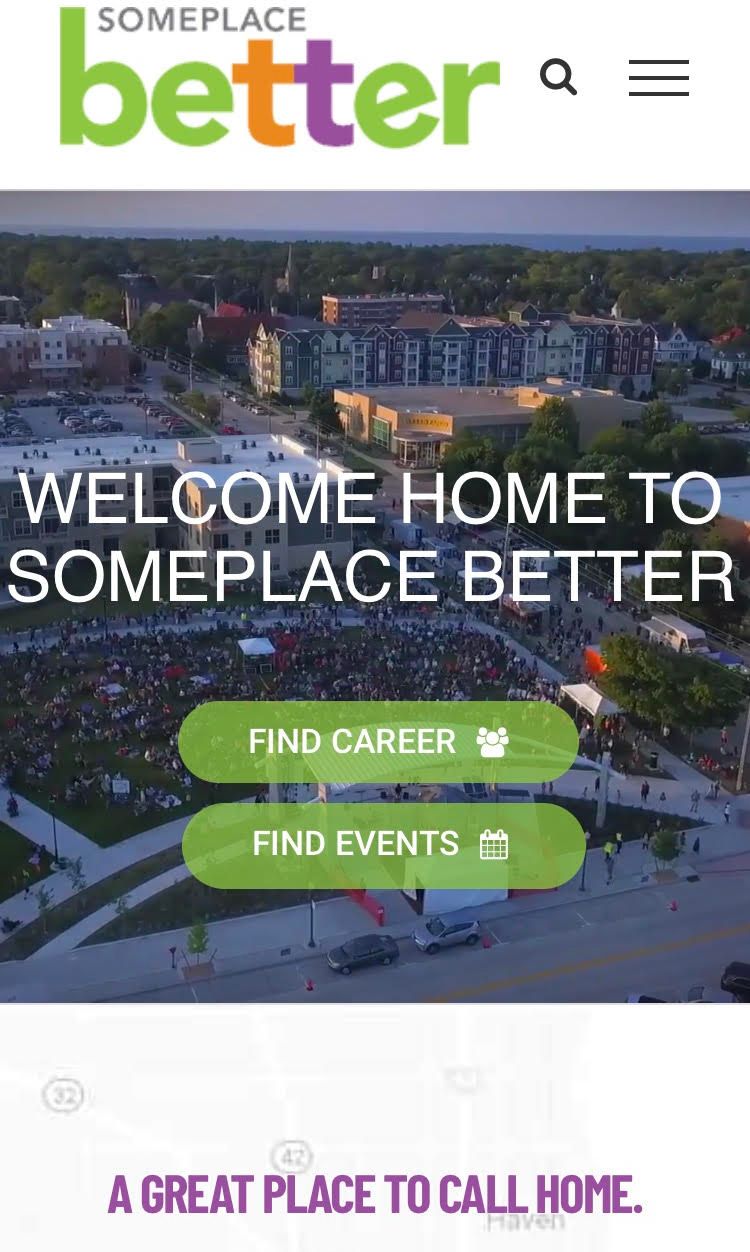 Sheboygan, WI – The Sheboygan County Economic Development Corporation released an updated SomeplaceBetter.org. Sheboygan County is the only area with comprehensive workforce relocation materials thanks to a partnership between the Sheboygan County Economic Development Corporation (SCEDC) and Sheboygan County Chamber of Commerce under the Someplace Better brand.

Sheboygan County has ~3,000 jobs available in nearly every field, education level and experience expectations. Growing Sheboygan County firms such as Johnsonville continues to have available opportunities for both professional and entry-level careers. "Johnsonville currently has 55 open positions including supply chain, maintenance, and manufacturing with a starting wage of $17.00 per hour with benefits." Stated, Kristen Hiske, Johnsonville's Workforce Outreach Coordinator.
"The area has many available middle class, family sustaining careers," stated
Gary Dulmes SCEDC Chair. "Sheboygan County also has incredible parks and
world-class amenities. The SCEDC feels it is critical to tell our area's story to
attract top-tier talent who are looking for a better place to live."

The innovative website, SomeplaceBetter.org, is already visited by over
2,200 people per month performing over 900 job searches on its job board. The
website also hosts a community calendar by coalescing all Sheboygan County
area chamber calendars into one, hosts library of community and testimonial
videos, and an ongoing list of area accolades such as Sheboygan being named
the 2nd most livable City by AARP.

One person who Someplace Better helped to recruit was Justin Selle, President and CEO of St. Nicholas Hospital. "My wife and I were sent a link to Someplace Better by HSHS St. Nicholas Hospital when I was notified about an opportunity within the organization," stated Selle. "We watched the videos about the area on our TV and were amazed by what the area had to offer. We knew the opportunity was with a good organization and HSHS St. Nicholas Hospital was servicing a great community." Justin moved to Sheboygan from Missouri this past July.
##
For Additional Information, Contact:
Joseph Sheehan, Executive Director
Sheboygan County Economic Development Corporation
(920) 946-3767
Kristen Hiske
Johnsonville, LLC
920-453-4872
The Sheboygan County Economic Development Corporation (SCEDC) is a countywide private/public partnership, leading economic development efforts to improve the economic well-being and long-term prosperity of the businesses, residents and communities of Sheboygan County, through collaborative retention, expansion and attraction efforts for business and employment development. The SCEDC leverages a variety of tools available to encourage business growth and job creation. Key performance indicators tapped by SCEDC track and measure businesses assisted and resources leveraged. By applying many tools to assist businesses and communities and help them succeed, SCEDC achieves increased economic prosperity for Sheboygan County, Wisconsin.