Founders' Pointe, Entry-Level Homes Groundbreaking
Sheboygan County Economic Development Corporation and Forward Fund Break Ground on New Entry-Level Homes in Founders' Pointe Subdivision

Ground is broken to celebrate the development of Founders' Pointe Subdivision.
Listed from left to right: Gregg Wagner, Ross Werner, Joel Van Ess, Shed Tenpas, Brian Doudna, Vern Koch, Bob Werner, Mayor Randy Meyer, Don Hammond, Gary Dulmes, Louie Gentine, Jon Wagner, Jeff Gentine, and Steve Westphal
Sheboygan Falls, WI – May 11, 2023 – Sheboygan County Economic Development Corporation (SCEDC) has advanced its housing initiatives by breaking ground on an eleven-acre subdivision, Founders' Pointe. The SCEDC has partnered with the City of Sheboygan Falls on its first project to construct entry-level homes in the $230,000 to $250,000 price range.
A groundbreaking ceremony on May 8, 2023, launched the construction of 54 single-family homes on Happy Lane in Sheboygan Falls, a significant step toward transforming the property into a space where middle-income, working families can live and thrive. The project is made possible by a public-private partnership that includes The Forward Fund, the City of Sheboygan Falls, and the SCEDC.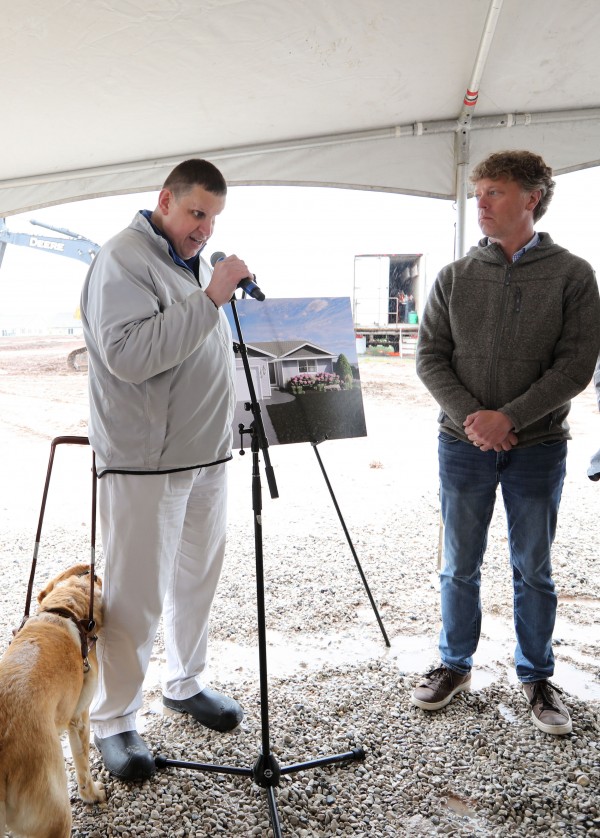 "The City of Sheboygan Falls is excited to be part of the SCEDC's Founders' Pointe. This is a true public-private partnership that is addressing a countywide challenge. The City is happy to be able to participate and bring new homes and residents into our city." - Randy Meyer, Mayor of Sheboygan Falls.
The mission of the Forward Fund, a ten-million-dollar community development investment by Johnsonville LLC, Kohler Co., Masters Gallery Foods Inc., Sargento Foods Inc., and Sheboygan County, is to provide funding to address short- and long-term workforce development barriers and initially being used to drive the construction of entry-level homes.
"Founders' Pointe is not a traditional subdivision," said Don Hammond, Board Chair of the SCEDC. "This project came to fruition through the commitment of Kohler, Sargento, Masters Gallery Foods, Johnsonville, Sheboygan County, and the City of Sheboygan Falls. The SCEDC is proud to take this important first step forward as we are committed to growing our workforce and our communities."

Each home in Founders' Pointe will have three bedrooms, two baths, a two-car garage, and a full basement and will sell for under $250,000. The homes vary in size, with the smallest being 1,322 sq. ft. and the largest floor plan being 1,512 sq. ft.
The SCEDC Housing Initiative will construct approximately 600 single-family homes throughout Sheboygan County over the next five years to increase the available entry-level housing stock in the county.
The Sheboygan County Economic Development Corporation (SCEDC) is a public-private partnership leading economic, community, and workforce development efforts in Sheboygan County to improve the well-being and long-term prosperity of businesses, residents, and communities. Through technical assistance, the SCEDC leverages a variety of tools to encourage business growth, startups, investment, skill development, and talent attraction. By applying the appropriate resources, the SCEDC helps fulfill Sheboygan County's growing economic and business needs.