Sheboygan: Wisconsin's Emerging Economic Powerhouse
Development Map Provides Snap Shot of Growth
Sheboygan, WI – June 28, 2018 – The Sheboygan County Economic Development Corporation (SCEDC) compiled major real-estate developments which have been completed or started in 2017 & 2018. The map is the most comprehensive document showing development in the Sheboygan-area.
This impressive showing of developments is only the physical manifestation of phenomenal growth in Sheboygan County. Over the last years the momentum in Sheboygan County's growth has been building. Data recently released by the US Department of Housing and Urban Development as well as the Wisconsin Department of Workforce Development indicates not only is Sheboygan County growing quickly but has started to outpace Wisconsin's traditional economic success outlier, the Madison MSA.
Employment Growth

Sheboygan MSA grew by 3.4%
Madison MSA grew by 2.5%

Labor force pool

Shebogyan MSA grew by 3.0%
Madison MSA grew by 2.2%

Median Family Income

Sheboygan MSA increased by 8.3%
Madison MSA increased by 7.6%
Sheboygan County has accomplished the growth without a major research university, without a commercial passenger airport, nor does Sheboygan sit at the crossroads of Interstates. However, the Sheboygan MSA does file more patents per capita than Madison, Sheboygan has created best-in-class K-12/employer partnerships, is the only community in Wisconsin with comprehensive relocation marketing campaign through its SomeplaceBetter.org and has a robust entrepreneurship support system.
The SCEDC Director, Dane Checolinski, "I was surprised to see that these major indicators pointed to such strong growth. I knew we had a strong market and growth, one that we expect to continue into the immediate future." To further accelerate the County's growth, the SCEDC has recently announced plans for a new small metro innovation district, entitled FreshTech and has aggressively pursued housing development to aid in the growth of the local economy.
Data Sources:
Labor Force & Employment: Wisconsin DWD (www.jobcenterofwisconsin.com/wisconomy/query)
Median Family Income: US Department of Housing and Urban Development (HUD) | FY 2017 – FY 2018 (www.huduser.gov/portal/datasets/il.html)
Patients: Brookings Institute (www.brookings.edu/research/patenting-prosperity-invention-and-economic-performance-in-the-united-states-and-its-metropolitan-areas/)
##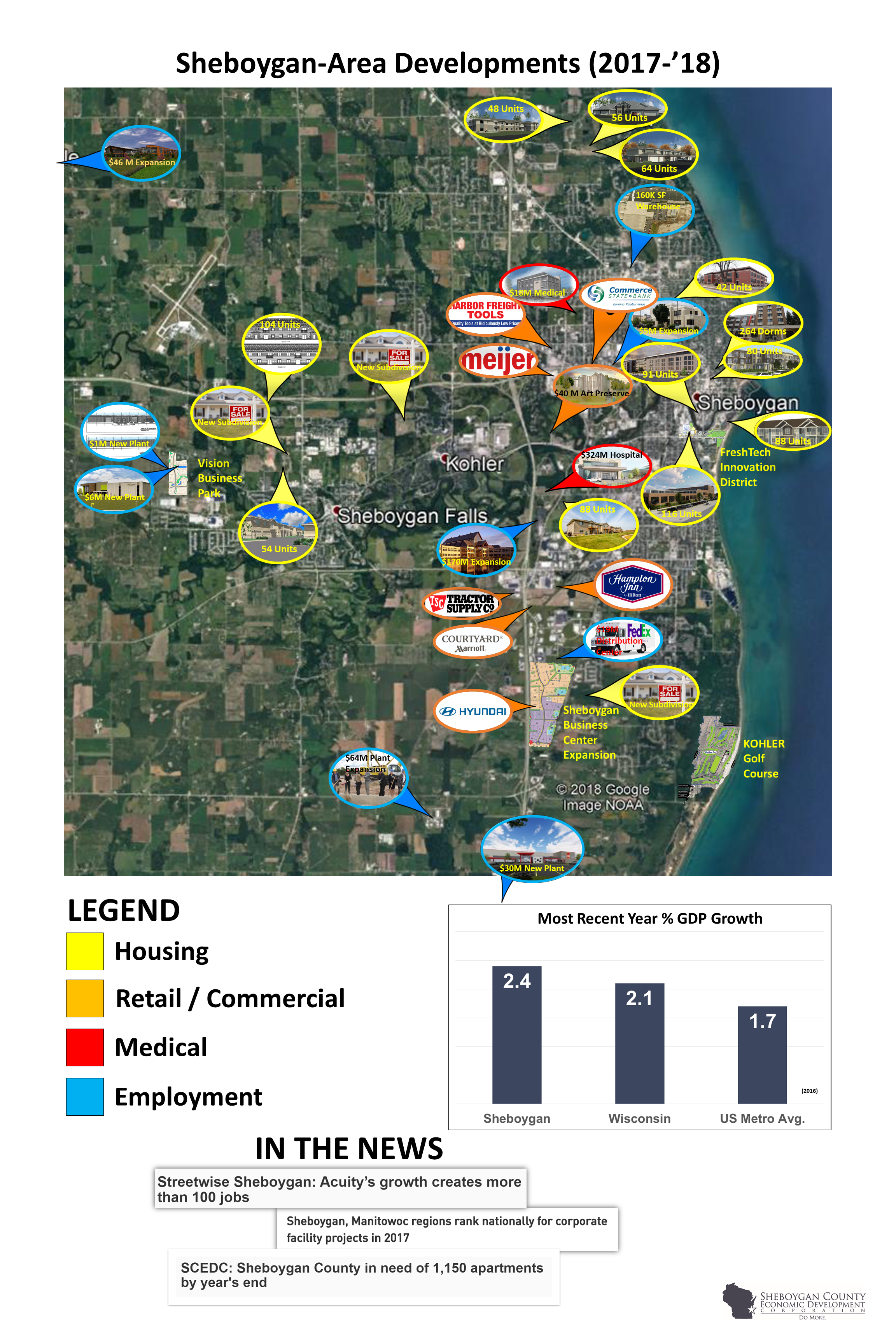 For Additional Information, Contact:
Dane Checolinski
(920) 946-9378
Checolinski@SheboyganCountyEDC.com
The Sheboygan County Economic Development Corporation (SCEDC) is a countywide private/public partnership, leading economic development efforts to improve the economic wellbeing and long-term prosperity of the businesses, residents and communities of Sheboygan County, through collaborative retention, expansion and attraction efforts for business and employment development. The SCEDC leverages a variety of tools available to encourage business growth and job creation. Key performance indicators tapped by SCEDC track and measure businesses assisted and resources leveraged. By applying many tools to assist businesses and communities and help them succeed, SCEDC achieves increased economic prosperity for Sheboygan County.