Silver Lining in post COVID19: Sheboygan County has 3,000+ job openings again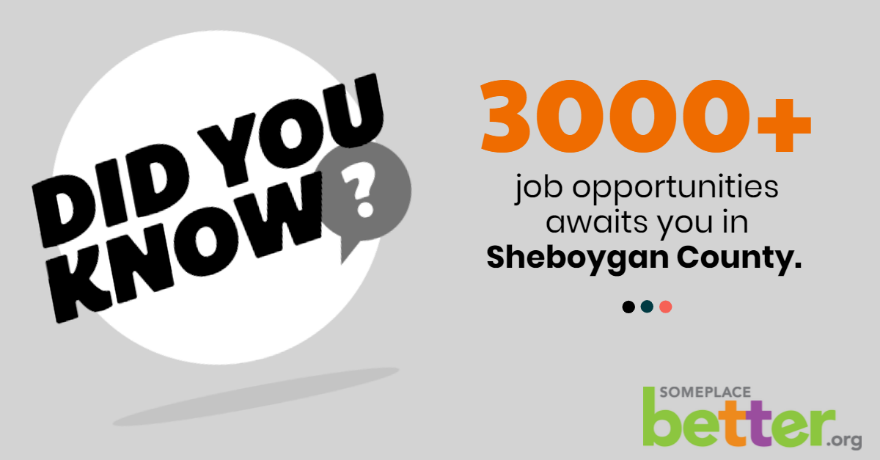 SCEDC - A key mission of the Sheboygan County Economic Development Corporation (SCEDC) is to create proactive workforce recruitment initiatives in partnership with area employers. "As we face this changing economy, SomeplaceBetter.org, our online county- wide workforce development and engagement tool continues to help job seekers stay connected to employers hiring in the area for current job opportunities," stated Joe Sheehan, SCEDC Executive Director.
Before the pandemic hit, Sheboygan County had over 59,000 family, neighbors and friends employed and boasted ~3% unemployment, according to the Wisconsin Department of Workforce Development. 3% unemployment is considered by many economists to be "full employment."
As a result of the "Safer at Home" order designed to save lives, 6,418 jobs were lost in April, resulting in nearly a 14% unemployment rate as over 8,500 of our neighbors found themselves unemployed. Job opportunities remained available but dwindled from over 3,000 job postings on SomeplaceBetter.org to 1,800 job postings in April.
This drastic increase in unemployment rapidly increased the number of our neighbors needed assistance during these difficult times. Many Sheboygan County residents are experiencing more stress and increased fear/doubts/uncertainty about their financial stability, families, and their businesses.
Several companies in the area are using this opportunity to hire talent. Kristen Young, Workforce Development Coordinator at Johnsonville stated, "Johnsonville's hiring plans this year have been re-evaluated, as the pool of available talent has quickly changed and expanded. We have been ramping up hiring efforts in our manufacturing facilities and have taken a closer look at the skills we will need to thrive in the long term." The company currently has over a dozen positions posted on www.Jobs.Johnsonville.com in Sheboygan County.
Following the lifting of the "Safer-At-Home" order, job opportunities are again on the rise and the labor market appears to be healing rapidly. For job seekers, it is imperative to stay connected to industry and recognize how it is evolving as paradigms continue to change. As of mid-July, SomeplaceBetter.org boasts over 3,200 jobs once again. The jobs range from safety managers and care coordinators, to loan specialists and crisis counselors — these industries are becoming central to how we fight the virus and re-establish our everyday lives. Retail in the county has also adjusted to the pandemic with an increase in delivery orders, online shopping, and curbside pickup. Truck drivers, software developers, customer service representatives, and sales are just some of professions that are in high demand.
As the Federal Pandemic Unemployment Compensation boost of $600 per week has ended, the SCEDC realizes some will fail to find comparable employment to what they had prior to the pandemic. The silver lining is that Sheboygan County's unemployment has already fallen to about 5,000 people or 7.9%. A bright spot is that if all 3,200 job postings are filled, which does not account for those who were laid off and are being called back to work, Sheboygan County has the open positions necessary to reach its pre-pandemic unemployment rate of 3.0%.
To find out what jobs are available please visit SomeplaceBetter.org or jobcenterofwisconsin.com.