SNFood & Beverage Launches Ready-to-Drink Mixed Spirit Beverage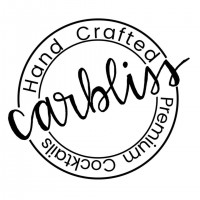 Sheboygan County, WI – The Sheboygan County Economic Development Corporation (SCEDC) works with local entrepreneurs to encourage investment in Sheboygan County. Adam Kroener and Amanda Lennartz, Sheboygan County entrepreneurs and Glenbeulah residents, believe that the world deserves to enjoy spirits with great flavor that are not full of additives, and do not induce guilt after looking at the nutrition panel. The SCEDC and the Small Business Development Center (SBDC) at UW-Green Bay has assisted Kroener and Lennartz of SNFood & Beverage in launching a new consumer beverage brand that aligns with their mission.
"SNFood & Beverage LLC is a startup company," Kroener said. "The first product is 'Carbliss,' which is a no-carbohydrate, no-sugar, low-calorie hand-crafted cocktail that has a flavor for everyone to enjoy. I had dreamed of starting a bar with my best friend Stefan Nicholas Fiedler when we were kids. Stefan passed away in a motorcycle accident in June 2016. The name, SNFood & Beverage, is a way in which we can carry on Stefan's name and the idea of doing a business together. I have a well-versed background in food manufacturing, and the name allows the business to grow in many directions by not limiting it to just beverages."
SNFood & Beverage's first product, Carbliss, a vodka and sparkling water beverage, has been a labor of love for the two budding entrepreneurs.
"After several months of being on the Keto diet, Amanda and I both struggled through the summer to maintain our strict eating habits and enjoy a nice summer cocktail with friends," Kroener said. "At this time, the hard seltzer market was just kicking off. We both liked the appeal of the nutrition panel, but felt the seltzer was lacking the most important thing for a beverage – flavor."
"The idea for our beverage began in July 2018 when we started mixing cocktails at home using our vodka, flavored water, and natural extracts and came up with something we loved," he said. "For several months, Amanda and I pondered, 'someone should put this in a can!' Then, after a while, we decided that that 'someone' would be us. Carbliss was born when our company officially became a registered business in September 2018."
According to Lennartz, Carbliss provides a no-carbohydrate, no-sugar and low-calorie vodka and sparkling water drink that is bursting with the type of flavor that most similar drinks on the market lack.
"The beverage is a blend of vodka and sparkling water made with natural extracts," Lennartz said. "The hottest trend in the beverage market is low-carb, low-sugar and low-calorie drinks; unfortunately, none of them have any flavor. We set out to create cocktails that boast just the right amount of flavor with zero carbs, zero sugar and 100 calories in a 12-ounce serving. If you make a vodka and lemonade drink for yourself at home with standard lemonade and the same vodka content, it will include approximately 25 grams of carbs, 25 grams of sugar and 250 calories."
Kroener, who has an extensive background in manufacturing leadership and a passion for sales, and Lennartz, who has gained strong experience in accounting, human resources, marketing and business finance, have been thankful for the assistance offered by SCEDC and SBDC Business Counselor Ray York in developing the business plan for SNFood & Beverage, as well as planning for the launch of the Carbliss beverage product.
"Ray and I had several sit-down meetings and email conversations," Kroener said. "Ray assisted me in getting my thoughts organized and into a business plan that would set us up for success in the business launch and growth phases. Ray opened the doors to many connections for information that SNFood & Beverage needed to get off the ground, including both legal and financial. We are working with Max Scheuer from Bank First National for financing needs to get the business up and running."
York has been impressed with how Kroener and Lennartz have led SNFood & Beverage onto the local business scene with a bold new product.
"Adam and Amanda noticed a gap in the ready-to-drink mixed spirit production industry," said York. "Adam and Amanda were motivated to get this idea to market and their strong manufacturing, production, supply chain, and management background was evident in their planning. They pulled together resources and made the connections to successfully launch this product."
Kroener is eager for Carbliss to hit the shelves of area stores in the upcoming weeks.
"We are on schedule to launch Carbliss in a few weeks," Kroener said. "There is no official launch date yet. We are still working with the Alcohol and Tobacco Tax and Trade Bureau on final label approval. Badger Liquor will be distributing the beverage to their contracted retailers. Festival Foods is the first store that is ready and waiting for the new launch. That is the only place that we can announce at this time."
Kroener and Lennartz have been working hard in recent months to unveil a promotional campaign that will connect Carbliss to a new audience of consumers.
"One of the most difficult hurdles we have faced was determining how to share with the world that the beverage in the can tastes as good as we say it does just by seeing it on the shelf," Lennartz said. "We worked with Saturn Lounge in Waukesha to film our first commercial in order to bring the beverage to life. Be on the lookout on our Carbliss Facebook and Instagram pages to see it first and begin to find your bliss with Carbliss."
For more information about SCEDC entrepreneurial services please email info@SheboyganCountyEDC.com or call (920)452-2479
For more information about SNFood and Beverage please email adam@drinkcarbliss.com or call at 920.286.3159
##
The Sheboygan County Economic Development Corporation (SCEDC) is a countywide private/public partnership, leading economic development efforts to improve the economic wellbeing and long-term prosperity of the businesses, residents and communities of Sheboygan County, through collaborative retention, expansion and attraction efforts for business and employment development. The SCEDC leverages a variety of tools available to encourage business growth and job creation. Key performance indicators tapped by SCEDC track and measure businesses assisted and resources leveraged. By applying many tools to assist businesses and communities and help them succeed, SCEDC achieves increased economic prosperity for Sheboygan County.