Ashford Place Apartment Homes to Hold Ribbon Cutting Nov 29th
SHEBOYGAN, WI — The Sheboygan County Economic Development Corporation (SCEDC) aims to provide a wide variety of services, resources, and expertise to help encourage entrepreneurial opportunities in Sheboygan County, including new and existing businesses that offer unique services and experiences to the community. Wisconsin Lakefront Property Management LLC is announcing a new housing development, Ashford Place Apartment Homes LLC.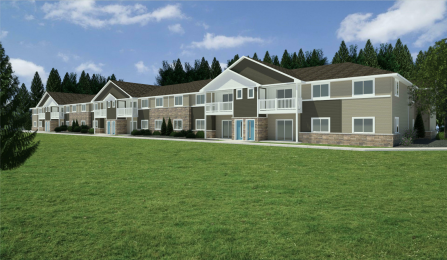 Ashford Place Apartments LLC, a 73-unit apartment development, will be an oasis in the forest with very mature trees and a walking trail around the property, the apartments will feature large living units with the most modern amenities. Nestled in the woods, this development will provide tenants with serene, natural beauty and a peaceful retreat to call home.
"Our mission is to provide unique, modern, high-quality apartment homes at prices that reflect a more typical income level of the community," said Real Estate Developer Eileen Robarge. "It will be a place where I want to live with the amenities that will come with it."
Units will feature 2 oversized bedrooms and 2 bathrooms, and a 1 car-attached garage with ample space for parking an additional car behind the garage. The interiors will feature a fantastic amount of natural light with modern kitchens and 1400 square feet of living space. Each unit will have a forest view. Duquaine Development is the General Contractor supporting this development.
A Ribbon Cutting of the first unit will take place on November 29th at 4939 Connemara Court in Sheboygan (formerly 5015 Playbird Road) at 11:45 am. The first multifamily units of Ashford Place will be completed in the spring of 2023.
Wisconsin Lakefront Property Management LLC successfully owns and manages projects in Milwaukee, Kenosha, Racine, and Sheboygan and continues to pursue additional housing developments as opportunities present themselves. "Our mission, as a small business, is to continue to provide a high-quality product with a higher level of customer service than the competition. Our unique hands-on personal touch with our tenants continues to make us successful," said Eileen.
"Our Sheboygan First theme kept money in the pockets of those in the community by hiring local talented businesses, where possible, to support development," said Eileen. Through communication and partnership with The Sheboygan County Chamber of Commerce and the SCEDC, over 20 local businesses are supporting the development of Ashford Place. "The Chamber gave us resources early in the project, so we were able to meet with local contractors and build great relationships," Eileen noted when asked about the approach she took to starting the development.
For more information about Ashford Place Apartment Homes LLC, contact Eileen Robarge at erobarge@windwardcovellc.com. To learn more about SCEDC's services, call (920) 452-2479 or email Ray York at York@sheboygancountyedc.com.