Request for Proposal - T. Sheboygan - 99 Acres
Town of Sheboygan, WI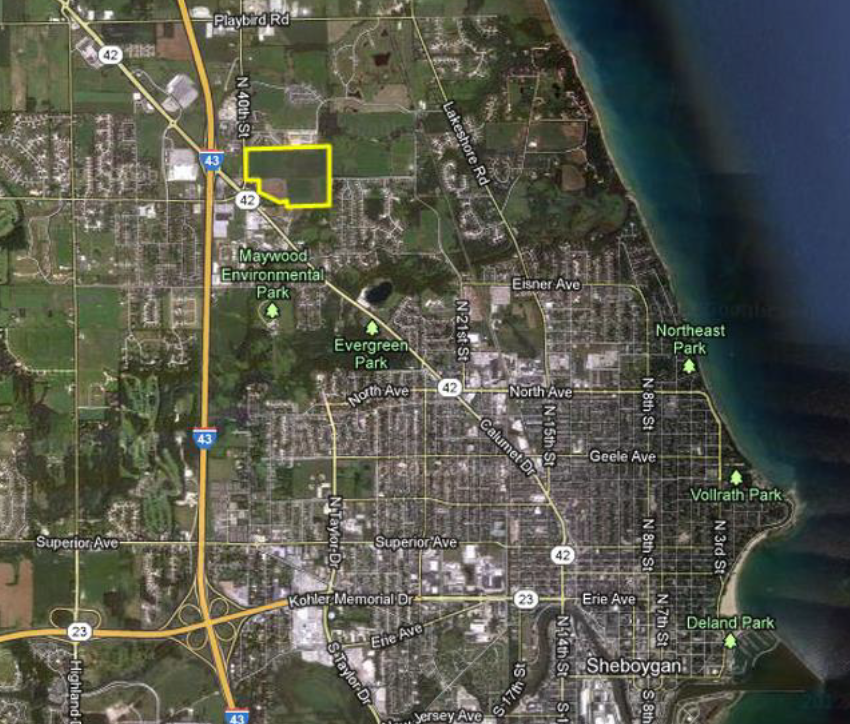 Download the complete Request for Proposal(RFP)
INTENT
The Town of Sheboygan invites qualified developers and development teams to submit proposals for the development of a ~99 acre green field site located at 4305 N. 40th Street, Sheboygan, Wisconsin. Through the development of the site, the town seeks to:
Develop the site in such a manner as to link the retail/commercial nature of Hwy 42 on the west side of the property with the residential nature on the east side of the property.
Leverage the sites interstate visibility to maximize the absolute best use of the property.
Provide for high quality commercial and residential uses for current and future residents of the township.
WORKING WITH THE TOWN OF SHEBOYGAN
The Town of Sheboygan has a track record of working successfully to approve large and small scale developments. Previous successful developments include Wal-Mart, Menards, and Muth Mirror Systems, Inc. The Town has been among the fastest growing areas in the Sheboygan MSA.
The Town has its own municipal water and sanitary sewer systems. Due to its size, the Town of Sheboygan is only one of a handful of towns in Wisconsin with the legal authority to create Tax Incremental Districts (TID) identical to those used by other Wisconsin cities and villages. The Town is also willing to consider the use of special assessments to finance utilities or other creative public-private partnerships that are mutually beneficial.
Please submit written and digital proposals to Town Attorney Michael J. Bauer no later than 1:00 p.m. on Friday January 18, 2019 at the following address:
Michael J. Bauer
Town Attorney Town of Sheboygan
Hopp Neumann Humke LLP
2124 Kohler Memorial Dr. Suite 310
Sheboygan, WI 53081
920-457-8400
E-Mail
All questions regarding this Request for Proposals should be directed to the Town Attorney.
Download the complete Request for Proposal(RFP)